---
IdeaWorx is the umbrella site for Lewis Perdue's books, writing and Internet work.
The Da Vinci Codex is Missing!

But the
ORIGINAL
thriller about Leonardo, art and religion is
BACK
in print.
Check Out The Da Vinci Legacy Web Site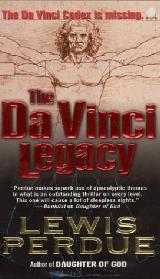 ---
Get the

Book Club Guide


To Reading and Comparing
Daughter of God and Da Vinci Code

---
Also, check out the current hardcover:

---
A Sample of Lew's Other Sites

All Lew's sites powered by Linux and Apache.


Penguin biting Bill Gates Courtesy of IBM.
---
---

Sirrus: One Great Hosting Service!
I have hosted more than a dozen domains with these folks for six years now and always found the service quick, responsive and reliable.
And NO, I do not, repeat not get a finders fee, affiliate payment or break on my own hosting for posting this. I get nothing other than the satisfaction of supporting people who have made the last six years of web site operation a lot easier than anywhere else I could have gone.
---
IdeaWorx
462 West Napa Street, Suite 201, Sonoma, CA 95476
(707) 939-6655 Fax: (707) 940-4146
Email: lperdue@ideaworx.com